About This Opportunity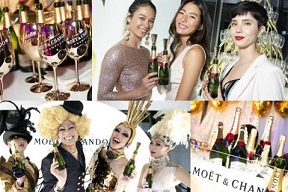 Please note that this is a Outsource position working for MHD but not as MHD employee.
こちらは業務委託のポジションになります。

This role's missions is to:

Communicate brand value and history to the customers in luxury manner
Represent MHD portfolio in the market, in context of the latest food & beverage industry trend
Conduct seminars, dinners and activities for customers and potential customers
Strengthen relationship between MHD and Champagne community in Japan (including chefs, sommeliers, other key partners in food and beverage industry) 
At MHD Moët Hennessy Diageo, we are committed to support employees who are motivated to continuously deliver outstanding performance and have ambition in their own careers. We aim to be a company where each and every one of us can have a meaningful and fulfilling life.
We provide a wide range of opportunities to support the development of your sparkling career.
Profile
Report to: Marketing Manager for Moёt&Chandon
1. Develop new listing opportunities especially for Flagship brands Moët & Chandon and Veuve Clicquot by working closely and communicating proactively with sales team.
     >    New listing -  includes not only new brand listing but also new SKU listing, new listing to BTG/banquet/ wedding menu.
     >    New listing within 3 months from BA seminar to be counted as her result outcome.
 
2. Create desire for and advocate of Champagne brand among high potential customers and consumers by
1) organizing/ executing seminars and events that fit to business needs, and by
2) continuously improving presentation contents. 
Organizing and holding quality seminar for high-end luxury consumers (e.g., VIC dinner) and KOL (e.g., sommeliers, managers at key trade, wine journalists, wine school teachers, JSA certificate holders) would be a plus vs. holding seminar for newly hired personnel at POS and for entry level wine drinkers.
Collaborate with Corporate Sales team to partner with luxury brands, Honda, McLaren etc to plan and execute events/ seminars.
3. Elevate Champagne visibility and advocacy in MHD by providing quality monthly report (i.e., BA report to be issued via reminder) and internal staff training that can be useful for marketing and sales (e.g., selling point of E&W vs. competitor, latest food & beverage industry trend).

4. Support key marketing activation, such as
1) Confirm contents for Tasting notes/ Champagne maker Seminar material translation, 2) Recipe creation/ food marriage creation,
2) Events support (RWOH, internal tasting, brand events) etc.
5. Continuously improve skill as a Brand Ambassador and proactively foster knowledge by connecting with MHAP BA . Prepare Pre-activation format & result report for each activation in a disciplined manner.
About You
Necessary
> Fluent in Japanese and English (French is a plus)
> Wine tasting and food marriage knowledge
> Affinity for luxury brands and communication
> Over 2-3 years working experience
> Strong presentation skills & Excellent communication skills
> Must be able to work non-office hours as business demands
> Must be able to make domestic and international travels as business demands

Preferable
> University graduate is a plus
> Qualified sommelier is a plus
> Knowledge of the Japanese wine market, "night life" and "Hotel & Restaurant" market will be a plus
> Sales skills/experience is a plus
About MHD Moët Hennessy Diageo
Moët & Chandon, Krug, Veuve Clicquot, Hennessy and Château d'Yquem are just some of the world-renowned LVMH wines and spirits brands that have become synonymous with the most prestigious origins and terroirs.
Located in Champagne, Bordeaux, and other illustrious wine-growing regions, many of these are centuries-old Houses with a unique character, which share a strong culture of excellence.
Overseen by Moët Hennessy , these exceptional champagnes, wines and spirits from around the world come together as a collection of rare brands where heritage and innovation, authenticity and creativity converge.