About This Opportunity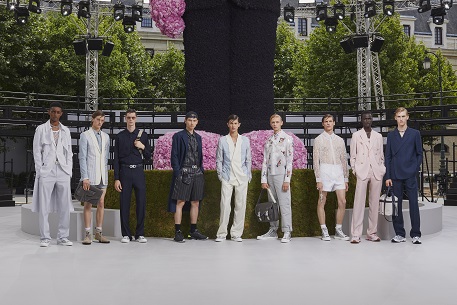 Christian Dior K.K. is looking for a Content & Project Assistant Manager.
This position's mission is to drive  online sales growth for Christian Dior Couture (Ready to Wear, Bag & Small Leather goods, Baby, Maison, Watch & Jewelry) in Japan.  Bring excitement& desire in generating online business through product & content strategies, UI/UX optimization and new project initiatives.
All employees have great love and respect for Christian Dior in Christian Dior K.K. We have very open and international office environment, and we interact each other regardless of positions or ages.
If you have strong passion for fashion and are looking for a with great teamwork and friendly working environment, Christian Dior K.K. will be a great match!
Various career paths are available both at Christian Dior or with different brands within the LVMH group.
e.g.
 - Increased responsibilities in line with growth of the company
 - The same position in other LVMH group companies
Profile
Work closely with the Retail Merchandising team & Central E-Merchandising team to determine online product strategy, seasonal OTB, the breadth & depth of online assortment, as well as special request for the online store
Sustain the E-Commerce business by adapting the online Visual Merchandising based on the Central guidelines
Ensure the right stock coverage on both seasonal & permanent offer on the website by coordinating with Supply Chain team
Provide insight on any special launch such as pre-order, pre-launch, exclusive product to create traffic & generate sales online
Cover local commercial event by requesting any specific events & animation online
Provide insight on content requirements (product images, copies, etc) based on local needs and work with all teams for execution
Develop and drive action plans to maximize category exposure and conversion on site
Partner with HQ development team to improve front-end processes and site optimizations (UI/UX), including timelines, quality metrics, and accountability
Ensure all launch assets maximizing opportunity for conversion and are delivered on time for strongest sales opportunity and ensure the right localization of global content.
Coordinate with central site maintenance team to ensure the website is running properly
Project management of larger roadmap projects and/or vendors as assigned
About You
3-5 years of experience in digital merchandising or Ecommerce retail buying or related role
Team player, self-motivated, digital-savvy, detail-and customer-oriented, with a strong sense of ownership and drive
Solid understanding of the Japanese consumer behavior and digital landscape, experience in using E-C Platform (Magento)
Strong business mindset with analytical skills
Experience working with various level of stakeholders and ability to articulate product strategies to different teams
Passionate with a creative mind-set, while fully understanding the luxury service standard
Excellent verbal, written, presentation (in both English and Japanese) and interpersonal communication skills
Bachelor's degree in Business, Merchandising, e-Commerce, or related disciplines
Luxury experience is an advantage
About Christian Dior
Founded in 1947 in Paris.  Ever since the first show, Dior has kept attracting people with the new look which is elegant, structured, and infinitely feminine.
Dior has been a vocal supporter of gender equality and female empowerment and as part of the support, we launched mentorship program: Women @Dior
Women @Dior
A year long project that pairs female Christian Dior employees with female students interested in their area of expertise. This is designed to enable cross cultural, cross generational and cross functional interactions. At the International Women's Day (March 8th, 2017), 200 female students from all over the world gathered at the head office in Paris and enjoyed touring the maison's atelier, along with the brand's newly opened state-of-the-art archive facility: Dior Héritage.