About This Opportunity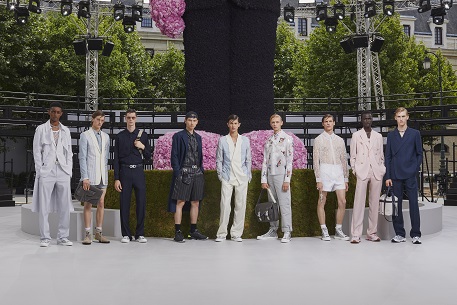 Christian Dior K.K. is looking for a CRM Assistant Manager.
This position's mission is to support the CRM Manager in clients analytics (regular and ad-hoc) and the management and local deployment of specific CRM strategies required by central or local Management, thus contributing to the efficiency of the marketing and sales actions year-round and to the reach of the company's sales budgets.
All employees have great love and respect for Christian Dior in Christian Dior K.K. We have very open and international office environment, and we interact each other regardless of positions or ages.
If you have strong passion for fashion and are looking for a with great teamwork and friendly working environment, Christian Dior K.K. will be a great match!
Various career paths are available both at Christian Dior or with different brands within the LVMH group.
e.g.
 - Client Development Manager
 - Similar positions in other LVMH group companies
Profile
Report to: Client Development Manager

Utilize CRM customer Data base to perform:
Client Analysis & Reporting
Targeting for Marketing initiatives
Extraction of data for communication tools
Analysis:
Support to create client KPI forecast based on local and global strategies and perform timely and accurate Client KPI reporting on weekly and monthly basis
Perform data analysis and post activity evaluations to deliver customer insights and make recommendations
Spontaneous initiation of any analysis that can generate client insight or operational projects to add value to the client relationship.
In collaboration with Social listening company, apply the consumer voice to our CRM activities.
Client Database Management:
Custodian of customer database with specific responsibility for maintenance and management of customer data to ensure data integrity
In cooperation with central team, implement operational process aligned with personal data protection and security law (GDPR)
Improve level of data collection via store training and tools optimization
CRM activities / Projects:
Support Japan CRM Manager in the deployment of specific CRM actions, required by Central or local Management.
Foster the learning and the use of Dior CRM system in-store (e.g. BTQ training) and act as focal point for BTQ users by providing guidance and advice on CRM tools and initiatives.
Coordinate end-to-end operation for direct mailing and promotional tools.
Support local implementation of Dior mobile clienteling tool in coordination w/HQ
Support translation of contents for our CrM tools, when necessary.
Call Center:
Support the Dior Call Center on Local activities (e.g. Japan specific call campaigns, handling of clients 'inquiries).
About You
Japanese : fluent, English : Business level (speaking and writing)
University graduate degree
Strong analytical skills with ability to deliver insightful ideas, excited to draw findings from figures
Experience with any business intelligence tools is a plus (Microsoft Excel, Access, Tableau, QlikSence,Power
Dedicated to develop the CRM expertise in the environment of premium lifestyle brands
2-4 years of experience in a CRM and/or analytical role (ideal backgrounds include: a similar business analyst role in luxury, hospitality, marketing agency, web company, data-base management, CRM administrator, or other data strategy type positions)
Proactive communication with related functions especially with BTQs and Paris team
Flexibility to deal with ambiguity
Experience with Online CRM/ Web management is a plus
About Dior
Founded in 1947 in Paris.  Ever since the first show, Dior has kept attracting people with the new look which is elegant, structured, and infinitely feminine.
Dior has been a vocal supporter of gender equality and female empowerment and as part of the support, we launched mentorship program: Women @Dior
Women @Dior
A year long project that pairs female Christian Dior employees with female students interested in their area of expertise. This is designed to enable cross cultural, cross generational and cross functional interactions. At the International Women's Day (March 8th, 2017), 200 female students from all over the world gathered at the head office in Paris and enjoyed touring the maison's atelier, along with the brand's newly opened state-of-the-art archive facility: Dior Héritage.