About This Opportunity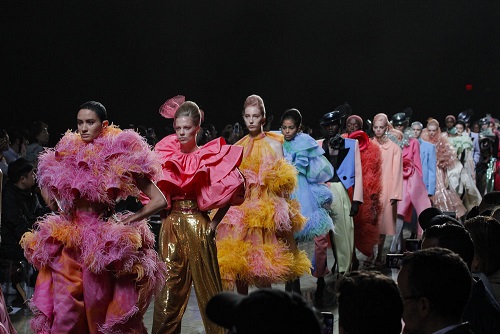 Marc Jacobs Japan K.K. is looking for an E-commerce Manager.
Last year is the 10 years anniversary of Marc Jacobs Japan.
Approximately 360 staff (Office: 40 staff, Stores: 320 staff) are supporting Marc Jacobs in Japan. 
We have a very open office environment, and we interact each other freely, regardless of seniority or position.
An example of this is once every second month, we have a  30 minutes  "Morning Coffee Session" to enjoy casual and friendly conversations and sharing information over some tasty seasonal sweets.
Profile
Report to:
   - General Manger, Marc Jacobs japan
   - Functionally to Vice President, e-commerce, Marc Jacobs International in NY
   - Direct Management of e-commerce team in Japan
Develop and execute mid and long term Marc Jacobs (MJ) e-commerce strategy to achieve financial goals in Japan 
Maximize e-commerce performance by improving KPIs 
Develop omni-channel strategy together with the other related departments including Retail & Sales, M&C, Client Development, and Merchandising. 
Analyze customer behavior/feedback among various channels to enhance CRM 
Manage e-commerce operations including order management, shipment, inventory, Customer Services Center/Activities etc with vendor management 
Own budget and forecasting of e-commerce business, responsible for all online activities 
Manage and oversee Search Engine Optimization (SEO), PPC,CMS, Social Media, Email marketing, and digital marketing activities 
Analyze business and customers to determine action plans for short, mid, long-term
Lead company-wide Digital Transformation
About You
8+ years work experience, implementing and optimizing E-commerce and omni-channel platforms and tools 
Prior experience in leveraging online customer journeys, while being business driven and R.O.I. oriented. In depth understanding of web analytics tools 
Ability to critique and advise E-Commerce team 
Digital marketing experience and keen interest 
In depth understanding of web design and web analytic software 
Ideally use of Adobe Photoshop, IDesign, UX, Dreamweaver, Google Analytics 
Background in retail business would be preferable
About Marc Jacobs
"Marc Jacobs" was founded by Marc Jacobs in New York in 1984. Since then, Marc Jacobs has been attracting people with our unique style which offers exquisite balance of tradition and innovation. Though Marc Jacobs is a part of Luxury brand group, LVMH, Marc Jacobs has never stopped adapting an innovative, creative and out of box idea, including launching stores in the mall where younger generation tend to go and start selling through well known EC website.